In 2015, the Sandy Springs Perimeter Chamber Board had a remarkable vision to create The Donna Adams Mahaffey Scholarship Fund. At the Sandy Springs Perimeter Chamber, we believe that education puts children on the path to success in life.
The Sandy Springs Perimeter Chamber through the Civic Fund expands educational opportunity to higher-education by providing scholarships to upcoming high school graduates in the city of Sandy Springs. These scholarships instill children with the concept that regardless of their financial situation, they too can receive a higher education. Improving education on a regional scale has always been a priority to at the Chamber.
The Donna A. Mahaffey scholarship changes lives because this scholarship provides the tools and opportunities children need to succeed to reach their full potential. Until all high school graduates have the opportunity to attend college, the Sandy Springs Perimeter Chamber through the Civic Fund will continue to empower and inspire graduates to attend college through The Donna Mahaffey Scholarship Fund.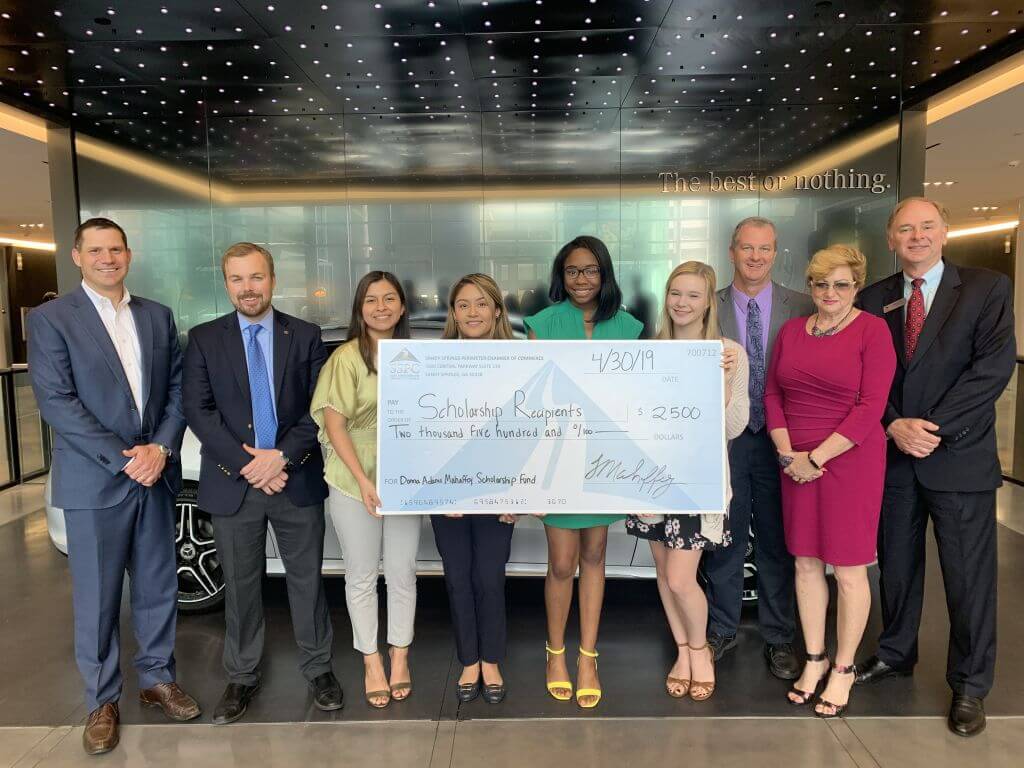 Please make contributions to The Donna Adams Mahaffey Scholarship Fund in person or by mail at the SouthState Bank office at 6000 Sandy Springs Circle, Sandy Springs, Ga., 30328.
Please make your checks payable to "The Donna Adams Mahaffey Scholarship Fund".
TAX ID:47-3630448
About Donna Adams Mahaffey
Donna Adams Mahaffey was an influential leader and public servant in DeKalb County, Dunwoody and Sandy Springs for over 40 years. She was active in local communities and was involved in prevention programs to help improve the lives of people in need and facing adversity. Donna was passionate about women's education and felt that education was key to breaking cycles and improving the lives of families and their future generations.
Donna served on several nonprofit boards, was an early civil rights proponent and worked extensively on race relations and within communities around Atlanta. She was instrumental in the creation of the MARTA train system, providing accessible public transportation in the Metro Atlanta area. Her leadership with the DeKalb prevention alliance earned her a role as an advisor to Jimmy Carter's Atlanta Project. After retiring from DeKalb county, Donna worked for 14 years as Chief of External Affairs for the Perimeter Community Improvement Districts (PCIDs). The Perimeter CIDs provide much-needed transportation and infrastructure improvements in the Sandy Springs/Perimeter area, such as the Hammond exit, the Perimeter Parkway and flyover bridge, plus the state's first diverging diamond. In this role, Donna was instrumental in the project for the I-285/400 interchange reconstruction. Additionally, she volunteered in many Sandy Springs nonprofit organizations.
Due to financial limitations and family commitments, Donna did not immediately attend college after graduating high school. Donna pursued her degree over a span of 30 years. As she was able, she would go to college at night and on weekends while working full-time and raising her family. She earned her degree at the age of 50 and was grateful that she was finally able to complete her goal.
Donna always believed in giving back, pouring into others, and leveraging her influence to help communities. This scholarship has been made possible by the generous donations from people who wish to honor her giving spirit and her dedication to making the world a better place. Her legacy lives on through touching the lives of the recipients of this scholarship.