The Sandy Springs Young Professionals' program is a Chamber-sponsored organization of young professionals (Under 40) in Sandy Springs and the Perimeter Region whose mission is to develop a dynamic and diverse group of peers with a passion for making a difference, the desire to build important relationships, and the energy to get involved in the community and the Chamber.
Our goal/vision for 2023 is to engage Young Professionals to "connect and grow" their relationships, businesses, and involvement with the community and the Chamber.  The Young Professionals group has networking events, professional development and mentoring/volunteer opportunities within the Chamber and the broader Sandy Springs and Perimeter Region and we want Young Professionals in your organization to get involved!
· Unique Networking Opportunities
· Career-building
· Mentoring
· Chamber and Community Involvement
· Educational programs
· Target professionals in the under-40 age group
Networking Events:
These events help build up your professional database and have the potential of making new friends in the process. Set in professional, yet fun, environments designed to enhance personal and professional growth, YP networking events are the perfect way to mix and mingle. Plus, enjoy food and entertainment are included  in some of our most unique corporate and cultural venues!
2023 Networking Events:
Young Professionals Ambassadors: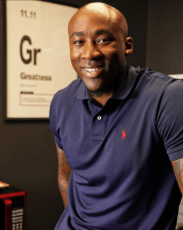 Jamie Hayes, Jamie The Motivator
Become a Member of SSYP
Join today to enhance your networking abilities, engage with other young professionals in the area, and receive member discounts to events! If you qualify and would like to join the Sandy Springs Young Professionals, please email Lena Liebrecht at lena@sandysprings.org.